curated by Jeannine Bardo
Works by Nancy Cohen, Marisa Tesauro, and Austin Thomas
February 25 — April 2, 2022
Review: A Printmaker Memorializes New York City's Architecture 
Review: Austin Thomas' 'Metropolis' plays singular songs of the city
At Municipal Bonds, the New York artist shows works conjuring both the frenzy and quietude of urban life
By

TAMARA SUAREZ PORRAS
AUGUST 4, 2021
AUSTIN THOMAS: METROPOLIS
Municipal Bonds
is pleased to present Austin Thomas's second exhibition with the gallery, titled Metropolis. In this homage to her hometown, Thomas's work embodies the dynamics of New York City, its architecture and energy. Featuring a selection of abstract monotypes on found paper, her solo show is both referential and reverential of quotidian moments from the city streets.
Austin Thomas: In Constellation, MUNICIPAL BONDS Jul 15th – Sep 30th, Online Exclusive
Municipal Bonds presents "Austin Thomas: In Constellation," an online exclusive exhibition of celestial monoprints. As an artist-gallery fundraiser, 20% of sales will be donated to the pop-up food pantry organized by La Jornada and Together We Can Food Pantry at Queens Museum.
Returning to the Source: Wave Hall Gardens, Bronx, NY, January 18  –  March 29, 2020
Wave Hill chose originality and diversity of artistic approach to frame Returning to the Source. Now a decade old, the Winter Workspace program is known for bold experimentation and for artists forging novel connections to nature. Reconnecting with former artists for the exhibition was exciting and meaningful. Bringing the artworks together now underscores the breadth of exploration that happens here.

On view is an incredible range of media, including animation, video, performance, works on paper, sculpture, textiles, painting and mixed media.

Exhibiting artists are Whitney Artell, Michele Brody, Sindy Butz, Julian Chams, Elisabeth Condon, Dennis RedMoon Darkeem, Francisco Donoso, Dahlia Elsayed, Nicolás Dumit Estévez Raful Espejo, Gwen Fabricant, Beatrice Glow, Sabrina Gschwandtner, Asuka Hishiki, Elizabeth Hoy, Nova Jiang, Yeon Jin Kim, Tamara Kostianovsky, Jessica Lagunas, Nick Lamia, Amy Lincoln, Robyn Love, Next Epoch Seed Library (Anne Percoco & Ellie Irons), Paloma McGregor, Naomi Reis, Yelaine Rodriguez, Jessica Rohrer, Linda Stillman, Austin Thomas, Michael Kelly Williams and Ezra Wube.
Municipal Bonds - OPENNESS, INAUGURAL EXHIBITION AT MINNESOTA STREET PROJECT, SAN FRANCISCO  SEPTEMBER 3 - OCTOBER 5, 2019

1275 MINNESOTA ST / MUNICIPAL BONDS / GALLERY 200
Opening Reception: September 7th | 5pm–8pm
Municipal Bonds is delighted to announce our inaugural exhibition Openness, presenting four important female artists: Austin Thomas, Bara Jichova Tyson, Danielle Dimston, and Yvette Taminiau.
Openness features complementary bodies of work, wherein each artist investigates a singular direction, inspired by materials and their consequences: Austin Thomas with ghost marking monoprints; Bara Jichova Tyson with analog collages; Danielle Dimston with chiaroscuro watercolors; and Yvette Taminiau with associative newsprint paintings.
Austin Thomas – Review - Lots of little things at LABspace
Closing Celebration Austin Thomas 'Lots of little things' Sunday November 4th, 2018, 3-6pm at LABSpace, Hillsdale, NY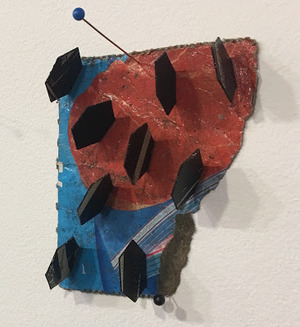 Closing Celebration
Austin Thomas 'Lots of little things' Sunday, November 4th, 3-6pm


LABspace
2642 NY Route 23
Hillsdale NY
917-749-2857
julielabspace@gmail.com
www.facebook.com/events/2160216287324113
UNTITLED' BY AUSTIN THOMAS3 Color Silkscreen printed on Soft Style Gildan White T-shirt by Summer 2016 Guttenberg Arts Resident Artist Austin Thomas.
Wave Hill Winter Workspace 2018
This winter, Glyndor Gallery at Wave Hill, a public garden in the Bronx, transforms into a studio space for Austin Thomas, giving her the opportunity to develop new work and offer opportunities for public interaction in the context of the garden.

Austin Thomas is a cultural producer and artist who is interested in making connections between current art-making practices and art historical ideas. Thomas views the world around her as a creative space and utilizes her sketchbook as a portable studio that she fills with drawings and collages. During the Winter Workspace Thomas will continue this process by using her travel time to draw en route to Wave Hill, developing a body of work that begins on the subway and expands to the garden. She will start new larger work - colleges and paintings - as well as small-scale installations or three-dimensional models inspired by her commute drawings. Thomas intends to look at plants and incorporate what is observed at Wave Hill into her work, linking abstractions to the real world. The work will be a meditation on the dichotomies of small and large, nature and city, shadow and colorful forms, abstraction, and real life.

Open Studios
Saturday, Feb 10 - 12:00PM-3:30PM
Glyndor Gallery​
The New Yorker, Goings on About Town, ART GALLERIES —CHELSEA Austin Thomas
Austin Thomas at Morgan Lehman Gallery New York, 534 W 24th Street Feb 16th – Mar 25th.
Morgan Lehman Gallery presents recent drawings and print work by Austin Thomas. Created while in residence at Guttenberg Arts these new prints employ a unique collagraphic process whereby collaged forms are loaded with ink, which is then transferred in layers onto found paper.
New York City Department of Cultural Affairs, new Percent for Art commission: Artist Austin Thomas' "Plaza Perch" is now installed
July 22, 2016 · New York City Department of Cultural new Percent for Art commission: Artist Austin Thomas' "Plaza Perch" is now installed and ready for visitors to use. The bench is made entirely from reclaimed wood from Coney Island. Pictured here: the first percher. Visit this permanent public art piece in Humboldt Plaza, Brooklyn.