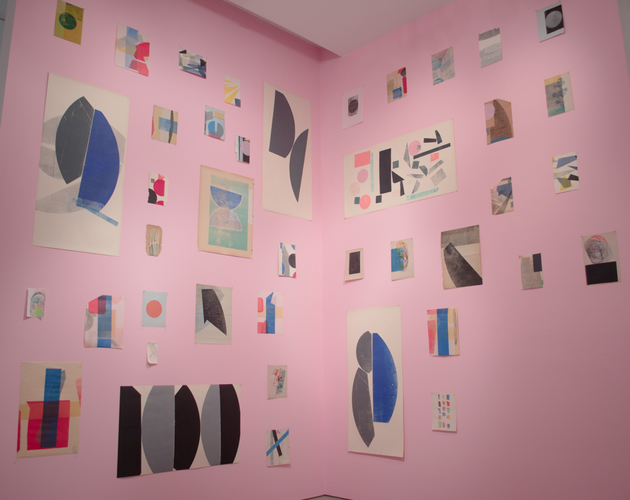 Bio

Austin Thomas is an artist, curator, community builder, and an exhibition manager orchestrating and communicating with many different types of people and materials to get things done. From 2007 to 2015, she directed the influential Pocket Utopia gallery in NYC. Thomas is a graduate of NYU and has received numerous residencies and fellowships, including Wave Hill, Guttenberg Arts, The Elizabeth Foundation for the Arts, Smack Mellon, LMCC, and a Bascom Lodge, Mount Greylock Summer Residency.
In the Summer of 2016, Thomas unveiled a permanent public sculpture for a new park in Brooklyn. She has also done public sculpture commissions for the Public Art Fund and Grinnell College. Thomas's work is featured in the book titled Living and Sustaining a Creative Life: Essays by 40 Working Artists and in that book's sequel The Artist as Culture Producer: Living and Sustaining a Creative Life, both edited by Sharon Louden. Thomas's work has been shown at galleries in Miami, San Francisco, Washington, DC, and Tennessee. Thomas's work has been written about
in
in the New York Times, New Yorker, Art in American, The Brooklyn Rail, The Paris Review and in Hyperallergic. Her work is the permanent collection of the National Gallery of Art. Thomas lives in New York City.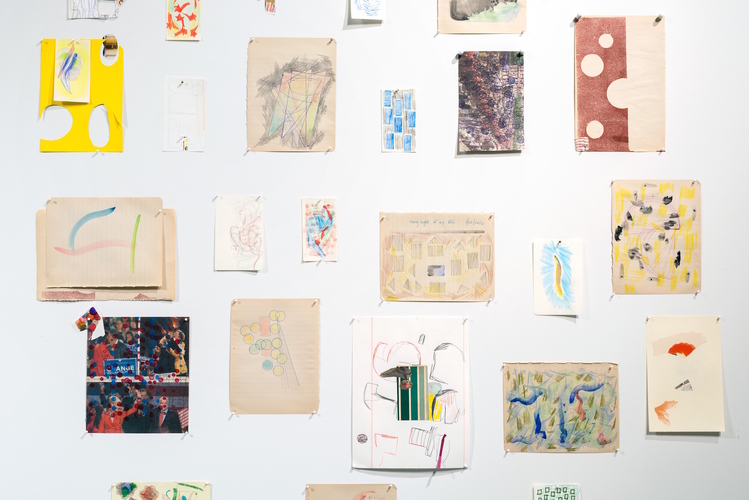 Austin Thomas

EDUCATION

New York University, Master in Studio Art
University of Colorado, Bachelor of Arts in Psychology

SOLO EXHIBITIONS

2018
LABSpace, Hillsdale, NY
Robert Lehman Art Center, Brooks School, North Andover, MA
2017
Morgan Lehman, New York, NY
2015
Seed Space, Nashville, TN
2014
Hansel and Gretel Picture Garden, New York, NY
2013
Robert Lehman Art Center, Brooks School, North Andover, MA
2012
Heiner Contemporary, Washington, DC
2010
Storefront, Brooklyn, NY
William Busta Gallery, Cleveland, OH
2009
Kris Graves Project, Brooklyn, NY
2006
Santa Barbara Contemporary Arts Forum, Santa Barbara, CA (Project Space)
2003
Debs&Co., New York, NY (Project Space)
Bower House, San Antonio, TX
The Fresh Up Club, Austin, TX
Art House, Austin, TX
Black & White Gallery, Brooklyn, NY
2002
Diane Pruess Gallery, Los Angeles, CA
1999
Sara Meltzer Gallery, New York, NY
1998
Fairfield University, Fairfield, CT
Art in General, New York, NY
1996
Troyer Fitzpatrick Lassman Gallery, Washington, DC

GROUP EXHIBITIONS/PERFORMANCES (SELECTED)

2018
"Ecophilia," Berkshire Botanical Garden" Great Barrington, MA
Three Squared," Geoffrey Young Gallery, Great Barrington, MA
2017
"All Things Great and Small," Geoffrey Young Gallery, Great Barrington, MA
2016
"The Best of Both Worlds," Geoffrey Young Gallery, Great Barrington, MA
"Making the Future," David&Schweitzer Contemporary, Brooklyn, NY
"New Prints," Guttenberg Arts, Guttenberg, NJ
"Expand and Flourish," Proto Gallery, Hoboken, NJ
2015
"Just Passing Through," Kalmanovitz Hall Atrium Art Exhibit, Thacher Gallery, University of San Francisco, San Francisco, CA
"Paper Constructions," Victory Hall Drawing Rooms, curated by Anne Trauben, Jersey City, NJ
2014
"Four Loko," Proto Gallery, curated by Julie Torres, Hoboken, NJ
"Zurtopia," Zürcher Gallery, New York, NY
"Living and Sustaining a Creative Life," Aberson's Exhibits, Tulsa, Ok
2013
"To be a Lady," Sundaram Tagore Gallery, Singapore
"Burying the Lede," Momenta Art, Brooklyn, NY
"Stash," Heiner Contemporary, Washington, DC
"Unhinged," Piergoi, Brooklyn, NY
2012
"To Be A Lady: 45 Women in the Arts," 1285 Avenue of the Americas Gallery, New York, NY
"What I Know," curated by Jason Andrew, NYCAMS, New York, NY
"Heroes," curated by Julie Torres, Small Black Door, Ridgewood, Queens
"Charting the Not," Centotto, Brooklyn, NY
"Project Space," Norte Maar, Brooklyn, NY
"ARTic Flow," curated by James Prez, Index Art Center, 585 Broad Street, Newark, NJ
2011
"Round Up, the Final Show," Storefront, Brooklyn, NY
"Copia Cartacea," Studio 10, Brooklyn, NY
"Blindspot," AIRPLANE, Brooklyn, NY
2010
"UCross: Twenty-Seven Years of Visual Arts Residencies," Nicolaysen Art Museum, Casper Wyoming
"Bibliophilia: Art and the Word," Hotchkiss Library, Sharon, CT
"Depthless," Statler Waldorf Gallery, Los Angeles, NY
"New Year, New Work, New Space," Storefront, Brooklyn, NY
2009
"X Mixed Greens Anniversary Exhibition," New York, NY
"Neverandagain," Curated by Elissa Levy, ISCP, Brooklyn, NY
"The Bushwick Biennial," Pocket Utopia, Brooklyn, NY
"Out of the Blue," Co-organized with Joy Episalla, Joy Garnett & Amy Lipton, Gallery Bergen, Paramus, NJ
2007
"Inside/Outside: Habitat," Sculpture Park, Abington Art Center, Jenkintown, PA
"Public Art Syposium," Grossman Gallery, Lafayette College, Easton, PA
2006
"Garden Improvement," Glyndor Gallery and Grounds, Wave Hill, Bronx, NY
"Out of the Blue," Co-organized with Joy Episalla & Amy Lipton, Abington Art Center, Jenkintown, PA
2005
"The 48th Corcoran Biennial," Corcoran Museum, Washington, DC*
2004
"Danica Phelps, Mark Lombardi and Austin Thomas," Faulconer Gallery, Grinnell College, Grinnell, IA*
"Playpen," The Drawing Center, New York, NY*
"Drawings by Sculptors," Black & White Gallery, Brooklyn, NY
2003
"High Desert Test Sites," Joshua Tree, CA*
"Breaking Ground," White Columns, New York, NY
"Float," Socrates Sculpture Park, Long Island City, Queens
"World Speak Less Dumb," Uplands Gallery, Melbourne, Australia
"Inscribing the Temporal," Kunsthalle Exnergasse, Austria
2002
"Serious Fun," Castle Gallery, The College of New Rochelle, New Rochelle, NY*
"Ballpoint Inklings," Geoffrey Young Gallery, Great Barrington, MA
2002
"Periphera," Murray Guy, New York, NY
2001
"Hospitality," A Constructed World Project, Foxy Productions, Brooklyn, NY
"Temporary Residents," Public Art Fund, Metro Tech Commons, Brooklyn, NY*
"Interval: New Art for a New Space," The Sculpture Center, Long Island City, NY
"Brewster Project," Brewster, NY
"Let's Get to Work," Susquehanna Art Museum, Harrisburg, PA
"Toothfairy Retribution Manifesto," Debs&Co., New York, NY
"Luck of the Drawn," Geoffrey Young Gallery, Great Barrington, MA
2000
"Collector's Choice," Exit Art, New York, NY
"human/nature," Caren Golden Fine Art, New York, NY
1999
"A Conversation Piece," A.R.T. (Art Resources Transfer), New York, NY
"SIK (Stones I've Known) Circle," Exit Art, New York, NY, performance piece
"SiteProjectsDC," The Washington Projects for the Arts/Corcoran, Washington, DC
1998
"The Project Wall," A.R.T. (Art Resources Transfer), New York, NY
1997
"Current Undercurrent, Working in Brooklyn," Brooklyn Museum of Art, Brooklyn
Troyer Fitzpatrick Lassman Gallery, Washington, DC
"Generations," A.I.R., New York, NY
"domestic setting," Post Gallery, Los Angeles, CA
"Four Montalvo Artists Work on Paper," Villa Montalvo, Saratoga, CA
1996
"The Art Exchange Show," 4C, New York, NY
"4+1," In Collaboration, Akron, OH
1995
"Vital Matrix," domestic setting, Los Angeles, CA*
"Artist Multiples," Richard Heller Gallery, Santa Monica, CA
"Members Choice: Emerging Artists," A.I.R., New York, NY

SELECTED PUBLICATIONS AND BIBLIOGRAPHY

2017
The New Yorker, "Goings On: Art, Galleries, Chelsea," Mar. 8 p. 24
Dan Pipepenbring, The Paris Review, "The Life of Paper," Mar. 14
2014
Tess Thackara, Artsy Editorial, "A Pocket Utopia for The Whitney Art Party" May 8
Joan Waltemath, The Brooklyn Rail, "May Day in March, Austin Thomas Utopian" March
Thomas Micchelli, Hyperallergic, "Communal Spirits: Artists, Advocates and Unlocked Rooms," Galleries, Weekend Feb. 22
2013
Roberta Smith, The New York Times, "Burying the Lede" Friday, October 18, p. C25
2012
James Panero, The New Criterion, "Gallery Chronicle" November 2012
Thomas Micchelli, Hyperallergic, "City of Woman" Galleries, Weekend Oct. 13, 2012
Holland Cotter, The New York Times, "The Latest Vibe Moves to Brooklyn" Friday, June 8, p. C25
Michael O'Sullivan, The Washington Post "Austin Thomas, Studies" Fri., Jan. 20
2011
A.L. McMichael, After Vasari, "Studio Visit with Austin Thomas (blog post)" October 2011
James Panero, The New Criterion, "Gallery Chronicle" January 2011
2010
Thomas Micchelli, The Brooklyn Rail, "Austin Thomas, Drawing on the Utopic" October
Mario Naves, City Arts, "Austin Thomas, Drawing on the Utopic" October 2010
Sharon Butler, The Brooklyn Rail, "Tracks: Expanding Utopia" June 2010
2009
Roberta Smith, The New York Times, "Artists Without Mortarboards" Sunday, Sept. 13, p. AR76
2008
Jerry Saltz, New York Magazine, "Art on a Shoestring: That's where creativity really thrives," Nov. 30, p. 53
Sharon Butler, The Brooklyn Rail, "Lost In Space: Art Post-Studio" June 2007
Edith Newhall, The Philadelphia Inquirer, "Sculpture in the Great Beyond: Abington Art Center's woodland hosts vast treasures," Fri., July 10, p. D16 (picture p. H05)
2006
Ken Johnson, The New York Times, "Odes to Nature, Grand and Demure, at Two Bronx Gardens" Friday, July 14, p. E30
2005
The Washington Post, "At Bottom, A Comfortable Way to Look at Things," Mar. 19, p. C02
2004
The New Yorker, "Goings On: Art, Galleries, Downtown," July 12-19, p. 24
Bridget L. Goodbody, Time Out New York, "Playpen: Selections Summer 2004," Jul 15-22, p. 78
2003
Miki Garcia, GlassTire.Com, "En el Camino con Austin Thomas/On the Road with Austin Thomas," Oct./Nov.
Jane Harris, Time Out New York, "Breaking Ground," Oct. 16-23, p. 83
Steve Dollar, New York Newsday, "Summer Art That's Like a Lazy Day," Aug.17, p. D01
The New Yorker, "Goings On: Art, Galleries, Brooklyn," Apr. 14, p. 17
2002
Holland Cotter, The New York Times, "Rain or Shine, Residing Outdoors," Fri., Aug. 9, p. E31
Art in America, "Summer Art Getaway," July, p. 17
2001
Edward J. Sozanski, The Philadelphia Inquirer, "Grab Bag Ideas on Art's Direction," Sun., Dec. 2, p. H04 (picture p. H05)
Time Out New York, "Around Town: The Public Art Fund's New Commissions For Metro Tech Commons," Nov. 1-9, p. 54
Carol Vogel, The New York Times, "Inside Art: For Public Art, A New Scrutiny," Fri., Oct, 5, p. E28
Michael Risinit, The Journal News, "Project Gives Interactive Role to the Public," July 27
New American Paintings, Number 32, Open Studio Press, pp. 154-157
2000
Ken Johnson, The New York Times, "Human/Nature," Friday, July 21, p. E30
1999
Sarah Douglas, The New York Times/New York Times Today (online), "Austin Thomas sik[ness]," Thurs., June 29
Michael O' Sullivan, The Washington Post, "Artists Taking Their Ideas to the Streets, Fri., June 25, p. N60
1997
Ferdinand Protzman, The Washington Post, "David Sheldon and Austin Thomas," Thurs. Dec. 4, p. D7
"It's Only Money," CNN Television Broadcast, June 2
1996
Anastasia Aukeman, ARTnews: The Cutting Edge, "Small Budgets, Large Ambitions," Fall/Winter Special Edition
1994
Donald Russell, Washington Review, "Art Sites 6," June/July

CURATORIAL PROJECTS

2019
Fashion Institute of Technology
2018
"Isness," Morgan Lehman Gallery, New York, NY
2017
Apartment 38, New York, NY
2015
Post Pocket Utopia, Curatorial Laboratory and Salon Space, Newark, NJ
2012-2015
Pocket Utopia Gallery, New York, NY (LES and Chelsea, NY)
2010
"Camp Pocket Utopia," in collaboration with Norte Maar, Rouses Point, NY
2010
"Ocketopia," Lesley Heller Workspace, New York, NY
2007-09
Pocket Utopia, Exhibition, Salon, Residency and Social Space, Brooklyn, NY

MONOGRAPHIC BOOKS

Austin Thomas: Perches and Drawings 2006 Faulconer Gallery, Grinnell College, 2006 Essays by Roger D. Hodge, Jeffrey Kastner, Shamim M. Momin, and Daniel Strong. Checklist and artist biography. 78 color photographs.

EXHIBITION CATALOGS

The 48th Corcoran Biennial: closer to home / Jonathan P. Binstock, Stacey Schmidt; foreword Jacquelyn Days Serwer. 2005 at the Corcoran Gallery of Art, Washington.

ARTIST'S WRITINGS

2017
The Artist as Culture Producer: Living and Sustaining a Creative Life, Edited by Sharon Louden, Published by Intellect Books
2013
Living and Sustaining a Creative Life: Essays by 40 Working Artists, Edited by Sharon Louden, Published by Intellect Books

AWARDS AND FELLOWSHIPS

2018
Winter Workspace Award, Wave Hill, Bronx, NY
2017
Summer Artist in Resident, Bascom Lodge, Mount Greylock, MA
2016
Space, Time Summer Residency, Guttenberg Arts, Guttenberg, NJ
2013
Elizabeth Foundation Studio Award (2-year Award)
2011
Elizabeth Foundation Studio Award (2-year Award)
2010
NYC Percent for Art Commission, Humboldt Plaza, Brooklyn, NY
2005
Public Art Commission, Arlington County, VA
Lower Manhattan Cultural Council Workspace Residency, New York, NY
2004
Annual Grinnell College Sculptural Award, Grinnell, Iowa
Smack Mellon Studio Award, Brooklyn, NY
2001
Public Art Fund Commission, New York, NY

PERMANENT PUBLIC ART INSTALLATIONS

New York City
Grinnell College

MUSEUM COLLECTIONS

National Gallery of Art, Washington, DC

TEACHING

Part-Time Faculty, The New School, NYC